k2tog
(you say it, "knit two together")
In her private writing, published posthumously in 1953 as Earthly Paradise, Colette wrote of her daughter: "She is silent when she sews, silent for hours on end…she is silent, and she – why not write it down the word that frightens me – she is thinking." Through these silent hours, we communicate with the women who came before us; following their patterns, reading their words. We make, and in making, we respond.
The collection of knitting patterns that comprises k2tog was born out of my preoccupation with these calls and responses—the way I could feel the presence of the knitters & poets who came before me as I worked both of these crafts. The name "k2tog" is borrowed from the language of knitting patterns, an abbreviation which instructs the reader to "knit two together". As I knitted these tapestries, found female poets who spoke to each other through time, I wove together the crafts of knitting & writing—already more closely aligned than I had realized.
The collection includes three sets of poems: Elizabeth Bishop's "Sandpiper" (1962) and P.K. Page's glosa "Poor Bird" (1994); Sylvia Plath's "Blue Moles" (1960), Anne Sexton's "Sylvia's Death" (1963), and Maxine Kumin's "How It Is" (1974); and several translations by women of Sappho's "Fragment 113". Each poet reflects and expands on the lives, deaths, and words of the women who came before her, just as my 'poems'—the tapestries—contain and reinvent each woman's language. I wrote the patterns by mapping the stressed and unstressed syllables in the rhythm of each poetic line, and then translating those into knit and purl stitches. Each line of verse is a knitted row and each syllable, a stitch. Quite literally, these knitted poems can be read—if you understand both languages.
- excerpted from k2tog by Jessica Bebenek,
an essay on gendered labour and experimental translation
k2tog exhibited
"Sylvia's Death: Anne Sexton on Sylvia Plath's Suicide, 1963" on the cover of Poetry Matters by Heather Milne (University of Iowa Press, 2018)
Hard Twist 12, The Gladstone Hotel (TO), Aug. 23, 2017 - Jan. 3, 2018
The Centre for Expanded Poetics, Concordia University (MTL), Jan. 2017 - Aug. 2017
One Line, White House (TO), Jan. 28, 2017
Regenerate, Gallery 345 (TO), Sept. 2016
Four Poets, Dundas Video (TO), May 2016
Evening Will Come, The Volta (pictures & text, online)
order k2tog & custom tapestries
Choose from any of the k2tog series of knitted poems. These are made-to-order, each in a limited edition series of 10. Prices range from $60 - $120.
Please use the form to the right for more details on ordering a k2tog knitted poem, or to order a custom knitted poem of your choice!
Individual listings coming soon through Live Equal Arts
Book now available for purchase online!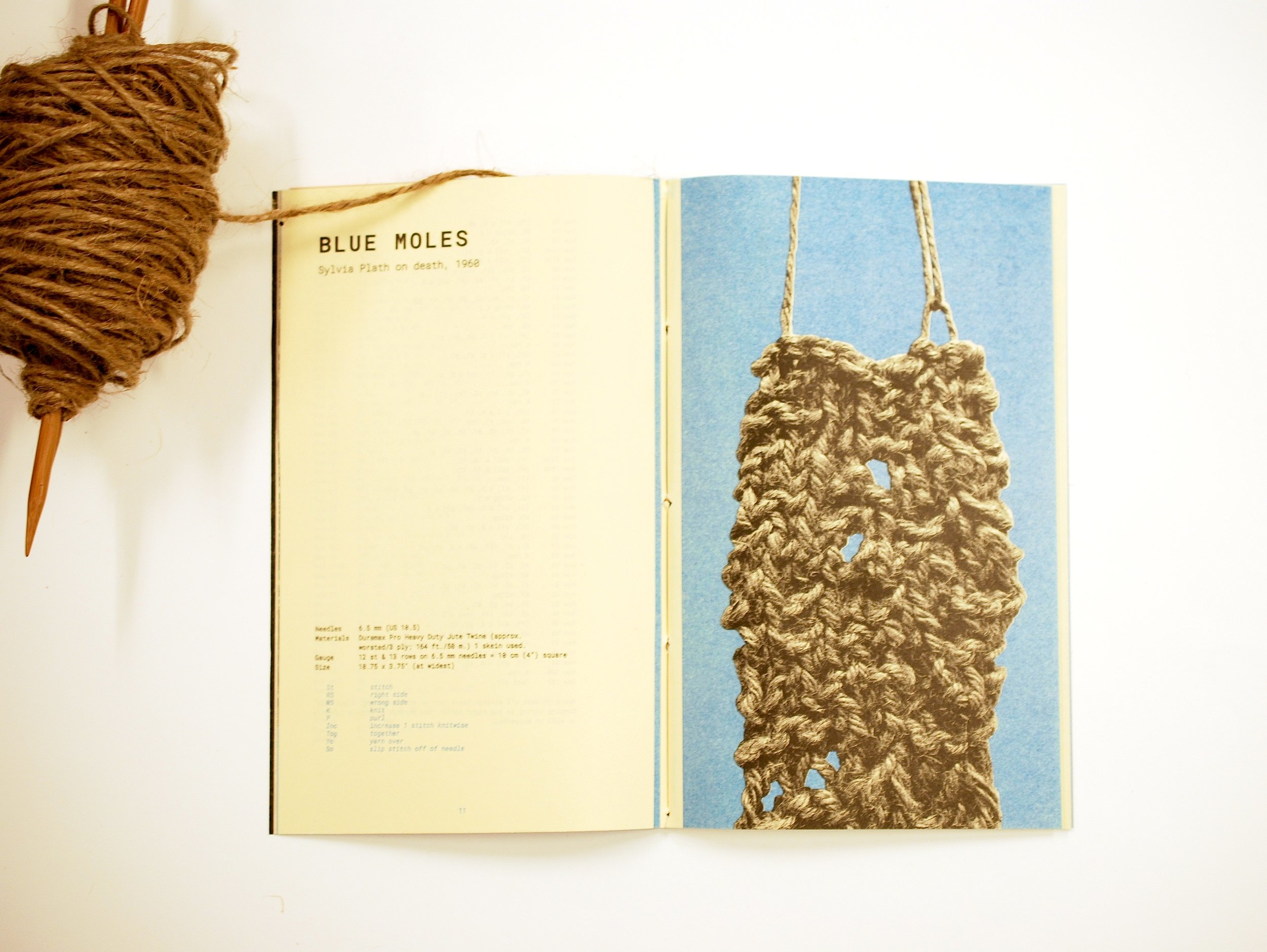 $30
The Canadian edition of the book was risograph-printed and hand-bound by the author, Jessica Bebenek, at the Centre for Expanded Poetics in a limited edition of 100 copies. The books are delicately crafted on lightweight earth-toned paper with black tissue paper end pages, emulating vintage women's knitting magazines. The pages are beautifully colour blocked in soy-based risograph inks and include high-resolution photographs of the finished knitted pieces alongside the knitting patterns.

Each book includes 50 metres of twine which has been wound by hand around a pair of wooden knitting needles, underlining the invitation for the reader to continue this knitted conversation. The spine of the book is bound with this twine and knotted so that the reader can cut the twine from the spine of the book to create with it, or can leave it intact as an art object.